Kevin Earnest was my first husband's roommate in college and we became friends as well. He was in our wedding in November 1988 after we graduated Clemson that year. Kevin commissioned to the Air Force and married a lovely girl from Mississippi, Carol. In 1996, we were living in Summerville, SC, near Charleston, and Kevin and Carol came to visit us August 9th, 1996. We showed them our house under construction and went out to dinner together. Brett had recently celebrated his first birthday and Kevin gave him a stuffed bear that Brett named "Boo". Kevin, an AF Pilot, had the pilot call name of "Boo-Boo" from Yogi Bear!
Nine days after this visit with Capt. Kevin in 1996, he was killed when the C-130 he was piloting crashed into a mountain in Jackson, WY, immediately after take off. Kevin and the 8 others on board perished as they were flying President Clinton's camping gear out of Jackson, WY, following President Clinton's 50th birthday celebration. Needless to say we were devastated when we heard this news. With 2 small children, we couldn't make the trip at the time to Kingsport, TN for Kevin's funeral. I never forgot Kevin or his infectious smile as I was reminded every day when I saw Brett with his bear, Boo.
The cargo plane was carrying baggage and equipment supporting the president during a nine-day vacation in Wyoming. Two to three minutes after taking off, at 11:48 p.m. Mountain time, the C-130 crashed into the side of 11,300-foot Sleeping Indian Mountain at an elevation of about 10,600 feet, officials reported. (DoD News, August 27, 1996)
https://oklahoman.com/article/2547597/crew-members-antics-recalled-at-memorial
Well Boo was around until Brett went off to college at 18.  He obviously couldn't take him to The Citadel!  Kevin was an engineer major at Clemson and ironically Brett studied Civil Engineering at The Citadel and then commissioned into the Air Force.  He has since married the love of his life and has plans to be a career AF family.
A few weeks ago, as my husband John and I were beginning to plan our trip out west for a vacation (Covid Isolation Vacation), I mentioned that it would be so nice to find the memorial marker in Jackson Hole, WY as we were going to be passing through there. John started researching to find the marker and was unsuccessful with any directions online. He emailed the police department that has jurisdiction in that area and got a response with some written directions but they did not have coordinates. Okay, we were committed to finding the Memorial and set out to purchase a new "Boo" for Brett to take with him on his upcoming deployment. I felt that Kevin might continue to watch over Brett with the bear. The first Boo is currently barely hanging on in rags at nearly 25 years old.
This past July 8th, we were planning to find the Memorial marker as we were passing through Jackson, WY, on our way to visit Yellowstone National Park. We found the first road mentioned in the directions that were sent to John in email. "Go down Canyon Campground Road and pass the Campground". We'd found Sleeping Indian Mountain, or Sheep Mountain, where the crash took place and I knew that the Memorial faced that mountain in the Tetons.
The road became a gravel, washboard like road, and we continued up the one lane road winding our way up the mountain.
I was driving and rather apprehensive that this was going to turn out well, but John just encouraged me to continue onward. We reached the top of the mountain past the campground as instructed and there was a small yellow sign that said "Warning, do not continue on this unimproved road without 4 wheel drive".
Now I'm very worried as my new Mazda CX5 was not a 4 wheel drive by any means, but John reminded me that it was an All Wheel Drive. We switched drivers when I refused to go any farther and John continued up the mountain. The road was so "unimproved" that at one point 2 opposite tires were off the ground … but we continued. A bit further up the mountainside, a couple passed us on a rented dune buggy type vehicle and commented that they'd help us if we got stuck but they later passed us on their way back down.
We finally reached the top of the mountain and there was no memorial plaque in sight! John pulled out the directions again which stated to go to the left at the trailhead. Well there was a hiking trail to the left – to the right was a gate closing off the path.
I threw on a sweatshirt and grabbed the bear and we started hiking up the path. Honestly we had difficulties at this point since we are over 9500 feet and the air is dry and thin. We walked at least ½ mile up until it became obvious that nobody would have put a Memorial marker THIS difficult to find.
We started our descent back down to our car and at one point 3 men passed us. I asked if they'd by chance seen a memorial marker – Nope! At least we had a better idea that we were on the wrong path. Disappointed, we drove back down to the start of the trail head. I was so relieved to be out of the "severe road" conditions! John noticed that we were so focused on the sign and getting up the difficult path that perhaps we should have taken another road at that point. I was not wanting to attempt another path but John convinced me that we'd made it this far…so we got back in the car. The road was not as bad, but difficult none-the-less. We did pass a beautiful waterfall – calming at least!
We continued down this dirt road passing a few campers and around a corner… to the left we saw it, finally, The memorial!
Although it was obviously an emotional time, I was also very happy to have found the memorial.  I could hear Kevin laughing over our many hours of searching…. Seriously!!  For whomever wants to also find this and you make it up to the "Warning" sign, don't go that way, take the path to the left.
I believe the GPS coordinates are: 43.521739, -110.626613
It's in the middle of nowhere and a 4×4 or at least a higher clearance car/suv would be advised.
DO NOT GO from December through May – the roads are likely closed.
Thanks for the great adventure, Kevin!
Pamela McAbee Hoyt can be found on Facebook or you can call her at her family business, McAbee's Custom Carpets 864-277-0470
Update: July 19, 2023, Brett Albertson was able to hike to the wreckage marker at the base of Sheep Mountain.
Capt Kevin "Boo boo" Earnest, USAF:
My dad's college roommate, and friend to my entire family .
Shortly after my first birthday, in August of 1996, Kevin came to Summerville, SC to visit my parents and gave me a stuffed bear I conveniently named "Boo". Nine days later Kevin was killed when his C-130 crashed into Sheep Mountain.
Almost 27 years later I finally got the chance to visit the crash site of Kevin's plane and see the memorial.
While I may not be able to shake his hand, I was still able to enjoy a PB&J with his memorial as I took in the incredible view of the Tetons.
Capt Earnest, from one Air Force Captain to another… fair winds and following skies I'll get that hand shake one day.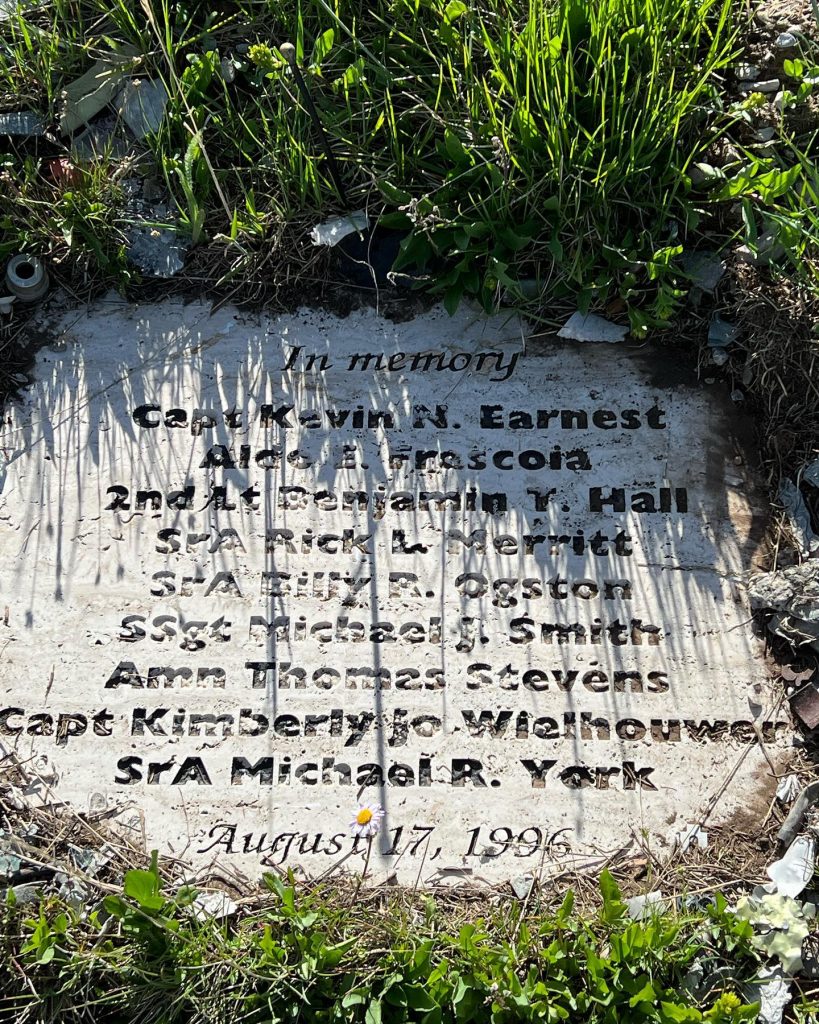 Wreckage site marker… Sheep Mountain (Sleeping Indian) Summit
Take Flat Creek Road to the first trailhead past the camping area. Very difficult hike and not for the faint of heart…plan for 7-8 hours of hiking.
Coordinates of marker 43.55390,-110.53289